Raw material of pads
Location:Index--->Raw material of pads
At this page, you will get to know the raw material of our pads.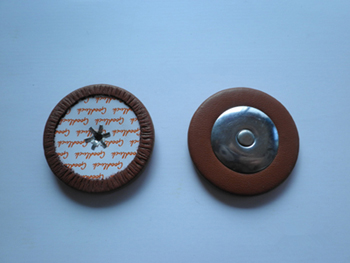 No.1 (domed metal resonator) No.2 (seamless domed metal resonator)
Metal resonator is made by stainless steel, with two kinds of resonator-----domed metal resonator and seamless domed metal resonator
Their common size is 12mm, 16mm, 20mm, 24mm, 28mm.
0

Plastic domed resonator

The common color is black, another color is brown
0

Stainless steel River

The common size of rivet is 6mm,8mm,10mm
---
0

Although all of our pads are made by 100% woolen felt, there is different quality too. You can see the different from their price. The price of advanced woolen felt is 5 times higher than the cheap one. The best woolen felt is for the advanced pads, and the common woolen felt for popular pads.

By press the felt, we will get pads by different hardness.
---
The leather comes from lamb skin with different color---- brown, white, orange-red…
Of course, their quality is different for popular pads and advanced pads.
---
BLADDER
Natural bladder from lamb, and Synthetic bladder which is imported from Italy.
---
POLYTHENE MEMBRANE
Polythene membrane between the leather and felt will make sure the pads waterproof better and longer life
---